For Editors¶
Target group: Editors
This extension will support editors & authors by providing
ability to manage datasets consisting of data and labels
fluid based content elements to display different chart types like bar, line, pie and etc.
Hint
The usage of generating chart data can be improved by Spreadsheet extension. So don't hesitate to check out that extension too 😁
Chart Dataset¶
Before creating a chart content element you need to create a dataset that can be used by chart libraries. Go to list view and create a new chart data record. On default labels, data and data labels are configured with TYPO3's table wizard.
The following example screenshot shows you how to create such a dataset when your TYPO3 installation also provides the spreadsheet extension.
Content Element¶
Start adding a new content element to your page as usual and select the tab "Charts" to see following overview: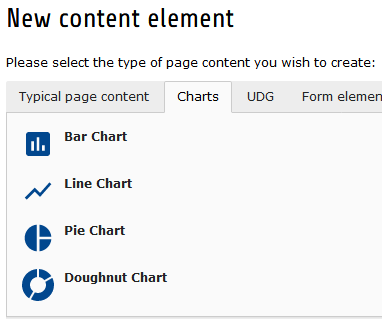 FAQ¶
Possible subsection: FAQ