Attention
TYPO3 v10 has reached end-of-life as of April 30th 2023 and is no longer being maintained. Use the version switcher on the top left of this page to select documentation for a supported version of TYPO3.
Need more time before upgrading? You can purchase Extended Long Term Support (ELTS) for TYPO3 v10 here: TYPO3 ELTS.
Install Introduction Package¶
Hint
The Introduction Package creates a demo website! If you do not want that, skip this page and proceed to Next steps.
If you are using TYPO3 for the first time you may want to see a working example of the CMS before you start work on your own project.
The Official Introduction Package showcases many of TYPO3's capabilities and gives you the ability to try them first hand. The Introduction Package utilizes the bootstrap_package extension to generate multiple responsive HTML templates that you can select and try out.
It also features examples of the different kinds page content that you typically see on a website. Such as paragraphs of text, images, tables and navigation menus.
Find more information in Introduction Package.
If you installed TYPO3 with Composer¶
To install the Introduction Package or any other distribution on a Composer based installation use:
composer require typo3/cms-introduction

Use the following commands to activate the extension(s) via the command line:
./vendor/bin/typo3 extension:activate bootstrap_package
./vendor/bin/typo3 extension:activate introduction

In this case, the Introduction Package depends on the Bootstrap Package (extension key: bootstrap_package), so both packages have to be activated.
When done, proceed with First steps with the Introduction Package.
If you installed TYPO3 without Composer¶
You can select "Yes, download the list of distributions" in the last step of the The Admin Tool when you finish installing the CMS.
In the backend:
Go to ADMIN TOOLS > Extensions

Select Get preconfigured distributions in the select box.

Install the Introduction Package

The first distribution on the top left should be the official "Introduction Package". Click on Install to install.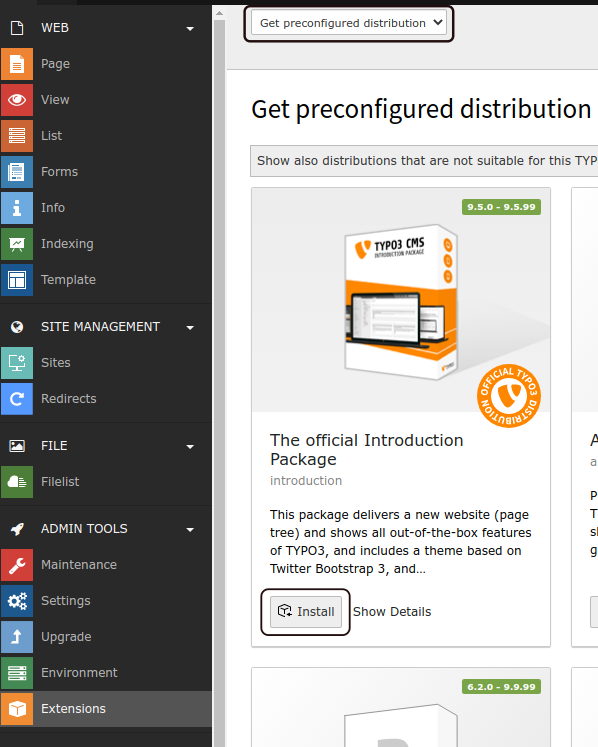 First steps with the Introduction Package¶
The "Introduction Package" creates some pages. The top level page is named "Congratulations".
Click on "Congratulations" in the page tree.

View the page in the frontend:

Click on the "View webpage" icon (with an eye) to view the page in the frontend.

Tip
Learn more about using the backend in the "Getting Started Tutorial's" General Principles chapter.