Attention
TYPO3 v9 has reached its end-of-life September 30th, 2021 and is not maintained by the community anymore. Looking for a stable version? Use the version switch on the top left.
You can order Extended Long Term Support (ELTS) here: TYPO3 ELTS.
select (selectSingle)¶
This page describes the select type with renderType='selectSingle'.
The renderType selectSingle creates a drop-down box with items to select a single value. Only if size is set to a value greater than one, a box is rendered containing all selectable elements from which one can be chosen.
Simple select drop down with static and database values¶

'select_single_3'

 

=>

 

[


    

'label'

 

=>

 

'select_single_3 static values, dividers, foreign_table_where'

,


    

'config'

 

=>

 

[


        

'type'

 

=>

 

'select'

,


        

'renderType'

 

=>

 

'selectSingle'

,


        

'items'

 

=>

 

[


            

[

'Static values'

,

 

'--div--'

],


            

[

'static -2'

,

 

-

2

],


            

[

'static -1'

,

 

-

1

],


            

[

'DB values'

,

 

'--div--'

],


        

],


        

'foreign_table'

 

=>

 

'tx_styleguide_staticdata'

,


        

'foreign_table_where'

 

=>

 

'AND {#tx_styleguide_staticdata}.{#value_1} LIKE \'%foo%\' ORDER BY uid'

,


        

'foreign_table_prefix'

 

=>

 

'A prefix: '

,


    

],




],



Select foreign rows with icons¶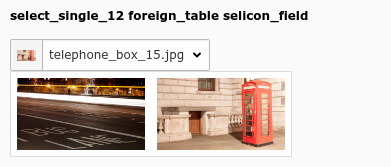 'select_single_12'

 

=>

 

[


    

'label'

 

=>

 

'select_single_12 foreign_table selicon_field'

,


    

'config'

 

=>

 

[


        

'type'

 

=>

 

'select'

,


        

'renderType'

 

=>

 

'selectSingle'

,


        

'foreign_table'

 

=>

 

'tx_styleguide_elements_select_single_12_foreign'

,


        

'fieldWizard'

 

=>

 

[


            

'selectIcons'

 

=>

 

[


                

'disabled'

 

=>

 

false

,


            

],


        

],


    

],




],



Select a single value from a list of elements¶

'select_single_10'

 

=>

 

[


    

'label'

 

=>

 

'select_single_10 size=6, three options'

,


    

'config'

 

=>

 

[


        

'type'

 

=>

 

'select'

,


        

'renderType'

 

=>

 

'selectSingle'

,


        

'items'

 

=>

 

[


            

[

'foo 1'

,

 

1

],


            

[

'foo 2'

,

 

2

],


            

[

'a divider'

,

 

'--div--'

],


            

[

'foo 3'

,

 

3

],


        

],


        

'size'

 

=>

 

6

,


    

],




],