Various¶
Popover¶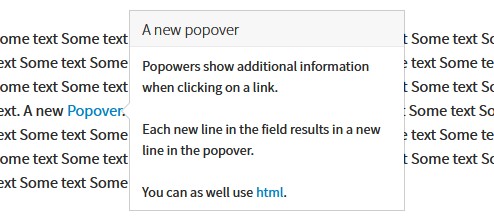 Popovers show additional information in a small window. Mainly they are associated with a link (see popovers component from bootstrap framework).
Create a popover¶
This extension provides an easy way to use popovers by defining them in the RTE editor:
Select the text that should be associated with a popover
Click the create link button
In the link browser dialog select the register

Popover

Select the class

Popover

and define the title and content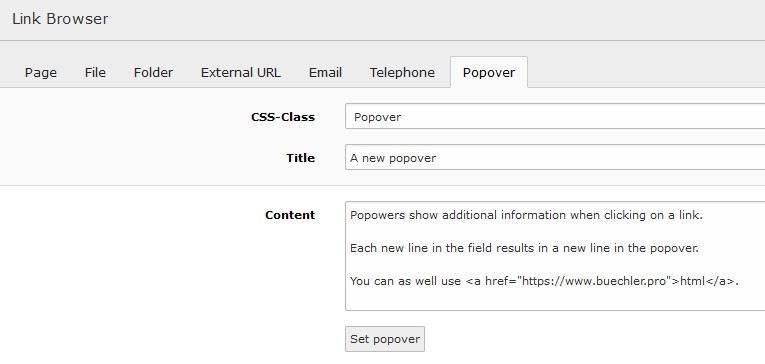 Adjust a popover¶
To adjust a popovers behaviour related attributes might be added to the link tag. The following link results in a popover showing up when hovering over the link text where clicking on it loads the TYPO3 home page.
<

a

 

class

=

"pp-popover"

 

data-trigger

=

"hover"

 

href

=

"t3://pppopover?href=https://typo3.org&amp;content=A+text"

 

title

=

"A title"

>

item

</

a

>



Note
The popover content is parsed the same way as the RTE text by using the configuration from lib.parseFunc_RTE hence TYPO3 specific links can be used (e.g. t3://page?uid=6).
Data from type getText¶
The getText data type has been enabled for the RTE editor. It allows to get various data from a web site. As an example a translated text might be retrieved depending on the currently selected page language. For this users might reference data by using curly brackets within the editor (see example):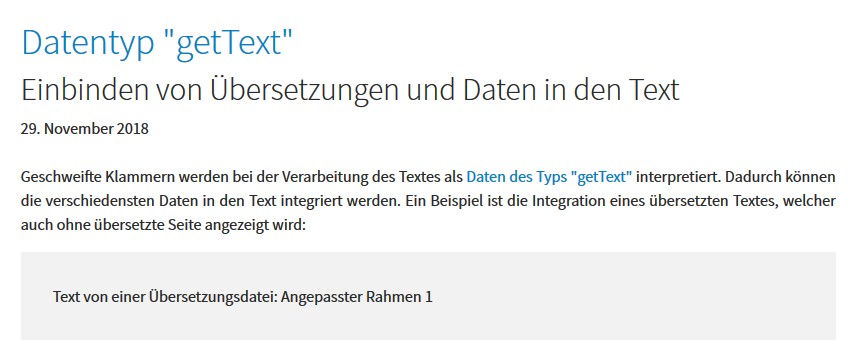 Note
To disable the getText data type for the RTE editor the following TS can be used: lib.parseFunc_RTE.nonTypoTagStdWrap.insertData = 0