TYPE: "select"¶
Selectors boxes are very common elements in forms. By the "select" type you can create selector boxes. In the most simple form this is a list of values among which you can chose only one. In that way it is similar to the "radio" type above.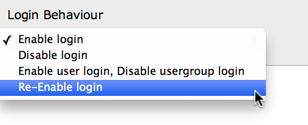 More complex configurations are possible, see the examples section for more details.
Since the "select" element allows to store references to multiple elements we might want to look at how these references are stored internally. The principle is the same as with the "group" type.