Base Variants¶
In Site Handling base variants represent different bases for a web site depending on a specified condition. For example a "live" base URL might be https://example.org but on local machine it's https://example.localhost as a domain - that's when variants are used.
Base variants exist for languages, too. Currently these can only be defined through the respective *.yml file, there is no UI available yet.
Variants consist of two parts:
a base to use for this variant
a condition that decides when this variant shall be active
Conditions are based on Symfony Expression Language and allow flexible conditions. For example:
applicationContext

 

==

 

"Development"



would define a base variant to use in Development context.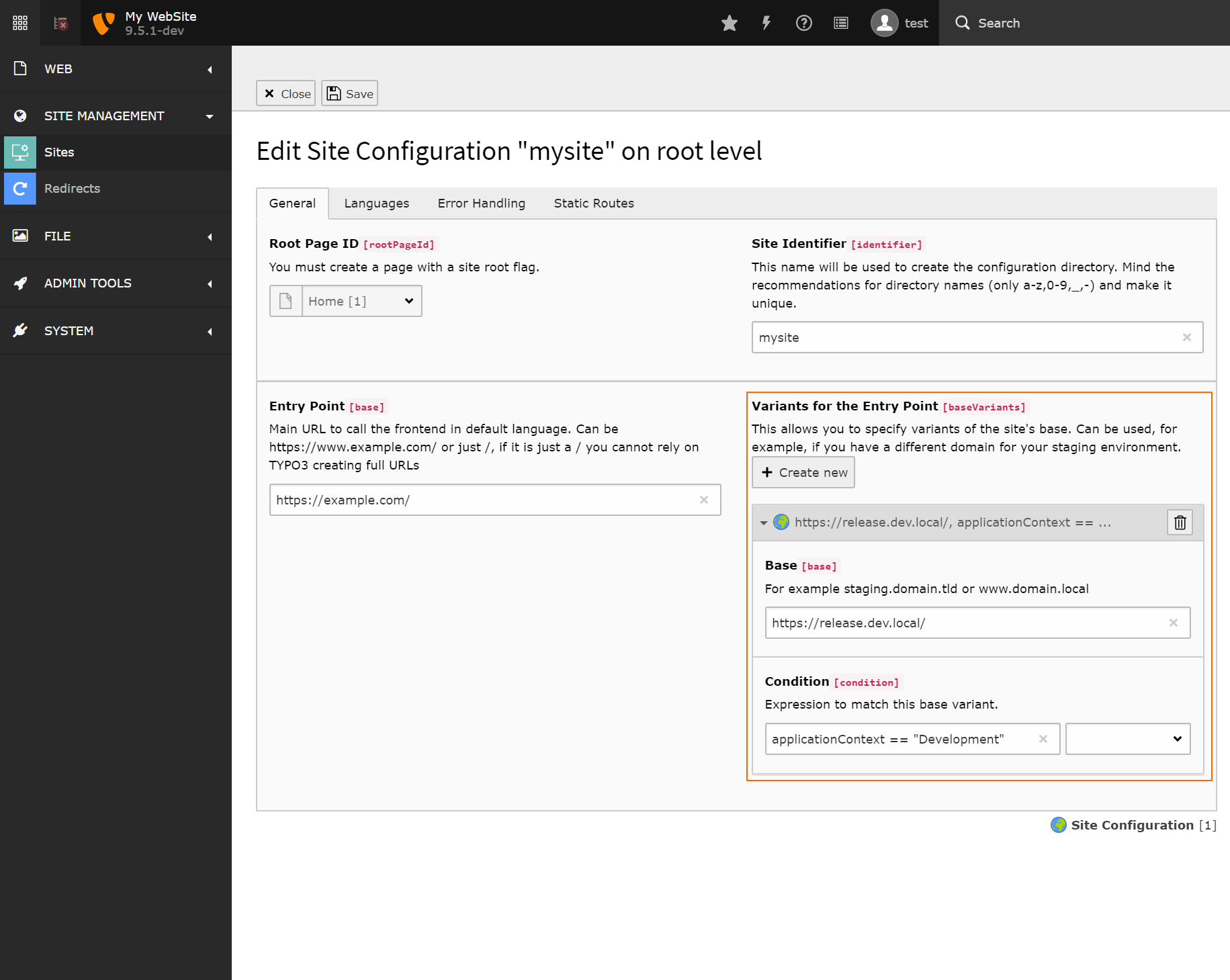 Hint
For those coming from earlier TYPO3 versions: With site handling, there is no need for sys_domain records anymore! :)
The following variables and functions are available in addition to the default Symfony functionality:
Example¶
rootPageId

:

 

1




base

:

 

'https://example.org/'




baseVariants

:


  

-


    

base

:

 

'https://example.localhost/'


    

condition

:

 

'applicationContext

 

==

 

"Development"'


  

-


    

base

:

 

'https://staging.example.org/'


    

condition

:

 

'applicationContext

 

==

 

"Production/Sydney"'


  

-


    

base

:

 

'https://testing.example.org/'


    

condition

:

 

'applicationContext

 

==

 

"Testing/Paris"'




languages

:


  

-


    

title

:

 

'Global'


    

enabled

:

 

true


    

languageId

:

 

'0'


    

base

:

 

/


    

typo3Language

:

 

default


    

locale

:

 

en_UK.UTF-8


    

iso-639-1

:

 

en


    

navigationTitle

:

 

English


    

hreflang

:

 

gb-en


    

direction

:

 

''


    

flag

:

 

gb


  

-


    

title

:

 

'DE'


    

enabled

:

 

true


    

languageId

:

 

'1'


    

base

:

 

https://example.de/'


    

baseVariants

:


      

-


        

base

:

 

'https://de.example.localhost/'


        

condition

:

 

'applicationContext

 

==

 

"Development"'


      

-


        

base

:

 

'https://staging.example.de/'


        

condition

:

 

'applicationContext

 

==

 

"Production/Sydney"'


      

-


        

base

:

 

'https://testing.example.de/'


        

condition

:

 

'applicationContext

 

==

 

"Testing/Paris"'


    

typo3Language

:

 

de


    

locale

:

 

de_DE.UTF-8


    

iso-639-1

:

 

de


    

navigationTitle

:

 

Deutsch


    

hreflang

:

 

de-de


    

direction

:

 

''


    

fallbackType

:

 

strict


    

flag

:

 

de



Functions¶
All functions from TYPO3s DefaultFunctionsProvider are available: